WORKSHOP EXPERIENCE GIFT (bangle making class & voucher, recipient can pick date)
£

113.95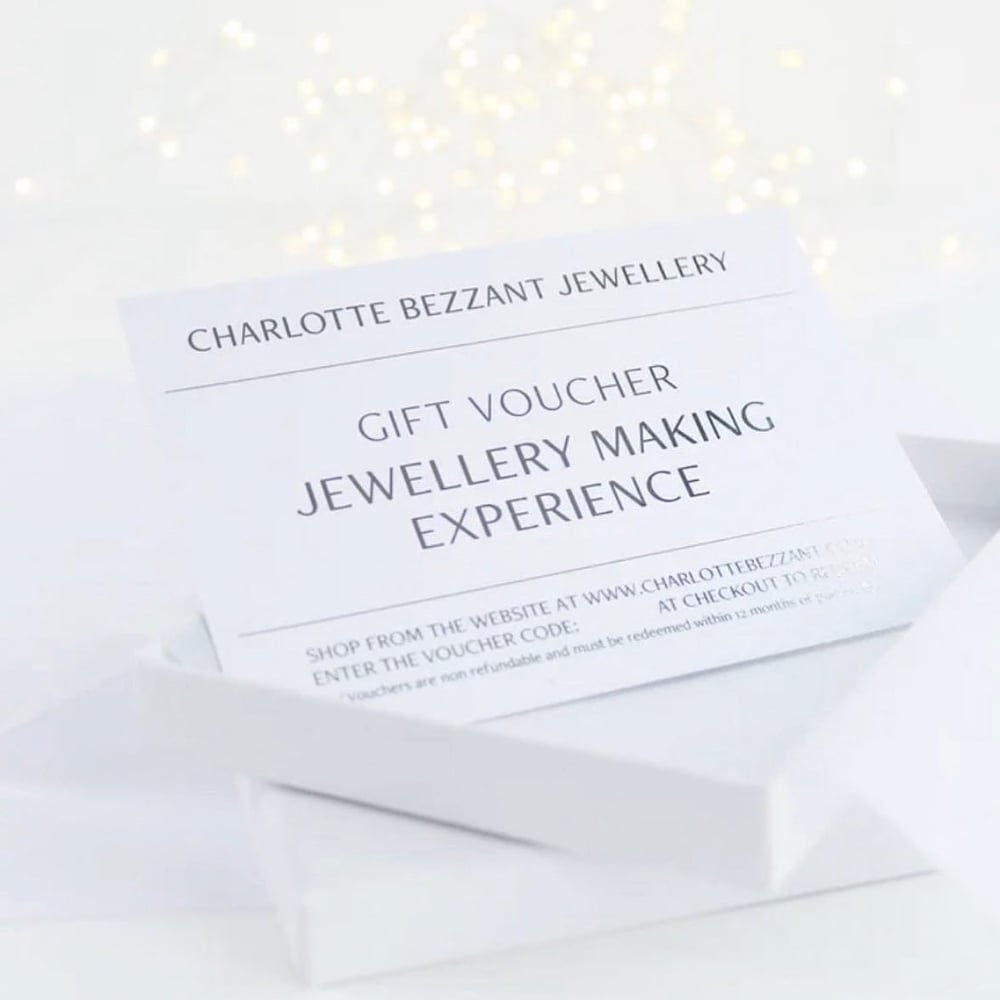 PURCHASE THIS LISTING IF YOU WOULD LIKE TO GIFT A WORKSHOP EXPERIENCE AND ALLOW THE RECIPIENT TO PICK THE CLASS DATE FROM THE SCHEDULED CLASSES. THE LISTING INCLUDES A BEAUTIFUL BOXED GIFT VOUCHER SO RECIPIENT HAS SOMETHING TO OPEN.
MAKE A BANGLE WORKSHOP
MAKE A PAIR OF THINNER OR ONE THICKER STERLING SILVER BANGLES
HALF DAY WORKSHOP
RECIPIENT CAN PICK A DATE FROM THE SCHEDULED CLASSES
WHO IS IT SUITABLE FOR?
This class is suitable for all levels including complete beginners who have never made any jewellery before. Students must be over 16 years of age and student under the age of 18 must be accompanied by an adult. While some people book with a friend, many people come on their own and find it a fun and welcoming class.
WHAT'S COVERED:
Determining your size
Shaping and forming
Sawing
Soldering
Filing and sanding
Applying texture
Polishing
WHAT'S INCLUDED?
All the materials to make three sterling silver rings are included in the cost of the three hour workshop. Tea / coffee and refreshments are also included.
WHERE DO COURSES TAKE PLACE?
The courses take place in my well equipped jewellery studio in S W London (Hampton Hill). Maximum class size is five students. Please note the studio is attached to the side of my house and accessed through the house.
ADDITIONAL INFO
Hampton Hill is equidistant from Hampton and Fullwell overland stations (S W Trains). Buses run to Hampton Hill High Street which is a short walk away. There are no parking restrictions for those wishing to travel by car but please note most of the local Borough has a 20mph speed limit.
After booking, I send out an email reminder with final details 7-10 days before the course date.
CANCELLATION POLICY
WORKSHOP EXPERIENCE GIFTS ARE VALID FOR 12 MONTHS FROM DATE OF PURCHASE. THEY ARE NON REFUNDABLE AND ARE VALID FOR CLASSES ONLY.
Please note courses do need a minimum of three students to go ahead and are subject to cancellation by Charlotte Bezzant Jewellery in the unlikely event that this is not met a few days prior to the course date. In this case it would be possible to swap to an alternative date.
DISCLAIMER
Jewellery making involves the use of sharp tools and heat. The session starts with a health and safety introduction. All students take part at their own risk. Please wear closed toe shoes, and if you have long hair please bring something to tie it back with.
Share